About...
Duncan Fegredo has drawn for as long as he has been walking although to this day finds he wobbles at both tasks. Illustrating comics for pretty much all major publishers he is probably best known today for his work on Mike Mignola's Hellboy and continues to collaborate with Mignola to this day, currently in production is Hellboy: The Midnight Circus.
Works in print are Hellboy: Darkness Calls, Hellboy:The Wild Hunt and Hellboy:The Storm & The Fury. The first two of these have been collected into the fifth volume of the oversized hardback Hellboy Library Editions, a weighty tome with an equally weighty supplementary sketchbook section. Hellboy is published by Dark horse Comics.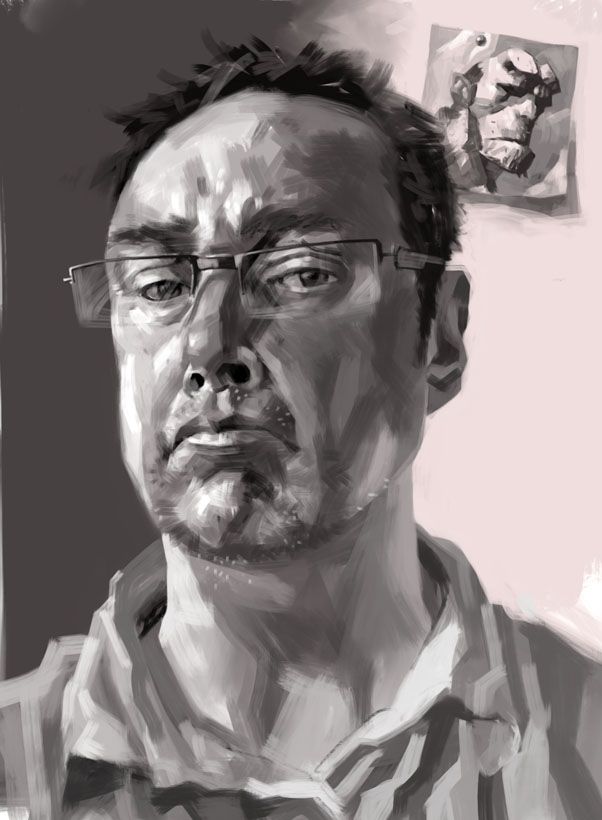 You're still here? You may wish to search comic store back issue bins for Fegredo's early work with Peter Milligan, Enigma, Girl and Face were all published by Vertigo, an imprint of DC Comics. Maybe you could pester them to collect up these books? Its just a thought. A further collaboration with Milligan is Flowers For Rhino, originally published in the title Spider Man's Tangled Web, much easier to find as it has been collected in a larger volume. You can Google it, I have no idea where my copy is and am apparently too lazy to search it out.
You may also wish to check out Jay & Silent Bob: Chasing Dogma, written by writer/director Kevin Smith it was originally a four issues series that bridged the events between Smith's movies Chasing Amy and Dogma. Check ebay and you'll find it as originally published in black and white or the rarer Graphitti edition, fully coloured with a signed bookplate. It's collected in a larger volume now but seeing as they neglect to send royalties I'm not advertising it, screw 'em.
There's more out there but I'm exhausted thinking about it, instead I'll drop a vague hint about the major motion picture I worked on, i really can't say more with an NDA in place but I drew a stack of storyboards for the director and it leaves me wanting to do more. The film hits the screen March 2014 but seeing as I still haven't mentioned the title that won't help much, sorry, but really, are you still reading? Go buy my pretty prints, much more satisfying!
Duncan Fegredo
November 2012
Hellboy ©2012 and Ad Infinitum Mike Mignola, used by kind permission.